Electrical Muscle Stimulation
in Corsicana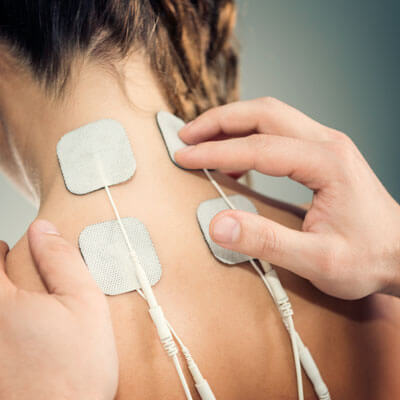 Electrical muscle stimulation (often called e-stim or simply stim) is a type of soft tissue therapy that is often combined with chiropractic adjustments. This therapy uses specific, safe levels of electrical current to promote health in muscles and other soft tissues.
Types of Stim & The Benefits
At Corsicana Chiropractic, we offer a variety of different types of stim. These include:
Interferential current
Russian stim
Premodulated (premod) current
Although the underlying principle is the same in each type of electrical stim, there are subtle differences that may make one more suitable for your specific situation. Electrodes are placed on the skin over the affected area, and then electrical pulses are sent through the pads into the area, pumping inflammation away.
Although it's typically referred to as muscle stim, the benefits are not limited to the muscles. All connective tissues may benefit from this type of therapy.
Stim helps to relieve pain and inflammation and can also help relax muscles by interrupting the spasm cycle. It also stimulates the body to produce and release its own natural pain relievers. This means that your pain relief continues even after your 15 minutes of therapy is over.
You're in Control
The idea of electrical impulses being directed into their body makes some people nervous, so we explain everything that's going to happen. You'll control the intensity of the impulses—we'll start at the lowest setting and move up slowly until you tell us to stop at a level that feels comfortable for you. You'll feel some tingling, but the frequency of the current is safe and not like being shocked.
Who It Helps
E-stim may be beneficial for patients with pain, whether acute or chronic. It can also be used for trigger points. It increases blood flow to the affected area, reduces inflammation and decreases pain and spasm.
We can use e-stim anywhere on the body where you have tightness or pain. Since we need to place the electrodes directly on your skin, we may have you change into a gown so we can access the appropriate area.
Book Today
Discover how e-stim could help you put pain in your past. Contact us today to schedule an appointment.
CONTACT US
---
Electrical Muscle Stimulation Corsicana TX | (903) 872-5657