Animal Chiropractic in Corsicana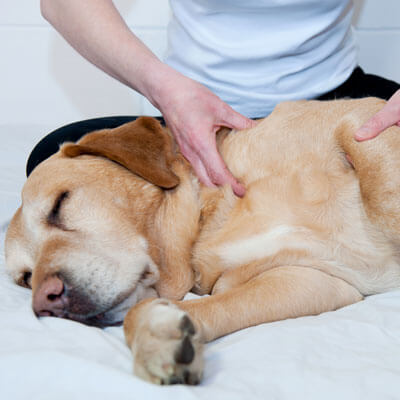 One of the best ways to help your four-legged friend flourish is through chiropractic care. Most people haven't heard of chiropractic care for animals—but at Corsicana Chiropractic, we want pets and livestock to experience the same benefits of chiropractic adjustments that people enjoy!
Just like people, animals have a spine and nervous system and, while their systems differ from ours, they still accomplish the same functions. When an animal has a misalignment in a joint of the spine or extremity, it causes interference in the nervous system that can result in pain or dysfunction.
Chiropractic adjustments
can restore proper alignment, relieving nerve interference. When your animal's nervous system functions as it should, they may feel and function better.
Our Expert Animal Chiropractor
Dr. Eeds is certified in animal chiropractic and provides care to household pets and larger farm animals. Naturally, animals can't tell her where it hurts the way their humans can, so care for animals is typically symptom-based. You may notice a pet isn't jumping or playing like normal, they may not be eating, they may wince or cry when touched, or they may have issues with their bladder function.
Based on their symptoms, Dr. Eeds will perform an examination to determine where a misalignment (subluxation) exists. Then she'll correct it with a gentle chiropractic adjustment.
We Can Even Care for Your Cow!
Of course, we don't want you to bring your horse or cow to the office! Dr. Eeds will travel to your location to assess and adjust livestock. We had one instance where the human was not a patient of ours, but they sought our care when their show heifer was injured and couldn't move well. Dr. Eeds checked out the heifer and adjusted her shoulder, allowing her to move and compete in the show. Her happy owner then became a patient as well!
Home Visits for Distressed Pets
With household pets like dogs and cats, we usually have you bring the animal to our office. However, house calls can be arranged, especially when transporting the animal will cause it more distress.
Just as we want our human patients to feel at ease we want our four-legged ones to feel comfortable as well.
Learn More Today
Contact us today to find out more about animal chiropractic or to book an appointment for your four-legged friend. Please note that this is a cash service.
CONTACT US
---
Animal Chiropractic Corsicana TX | (903) 872-5657